Nya produkter i webbshoppen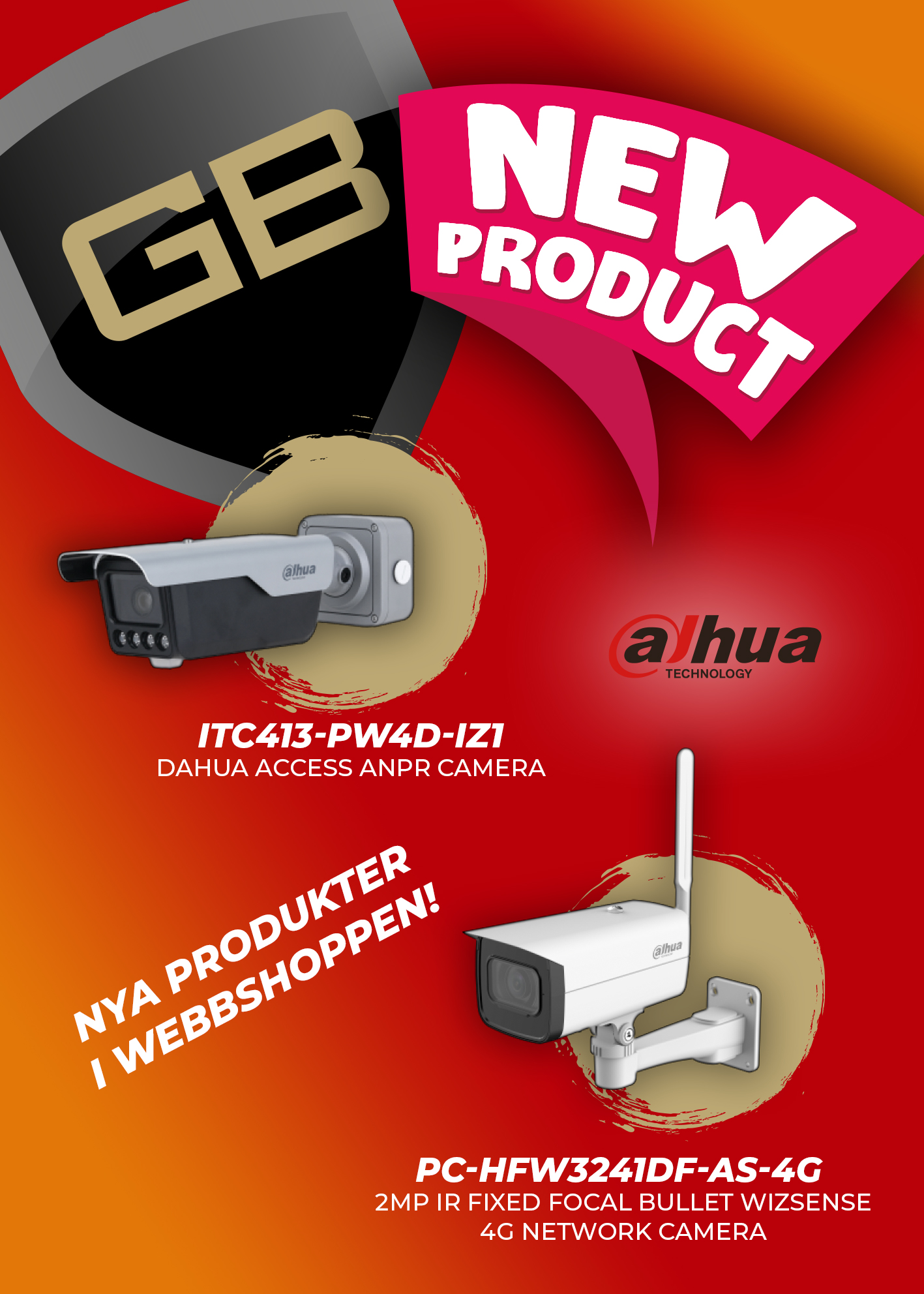 Just nu har vi en hel del nya samt inkommande produkter från Dahua Technology Nordic i vår #webbshop.
Här är två av dessa med dess tekniska specifikationer:
Produkt 1:
ITC413-PW4D-IZ1
Dahua Access ANPR Camera
– High-performance CMOS image sensor and processor that supports continuously extracting metadata 24/7.
– Adopts intelligent deep learning algorithms and supports recognition of unlicensed vehicles and the type, brand and color of vehicles.
– Built-in signal port, data port, communication port and remote controllers assist in controlling external devices such as entry and exit barriers.
– Built-in LED for simplified installation and commissioning.
– All-in-one structure with junction box and bracket, and it is also low power consumption.
– IP67 and IK10 rated.
– Supports intrusion and loitering detection and triggers light and voice alarms when perimeter events occur to actively deter targets. Custom audios can also be imported and edited.
– Easily adapts to scenarios through its motorized vari-focal lens.
Produkt 2:
IPC-HFW3241DF-AS-4G
2MP IR Fixed focal Bullet WizSense 4G Network Camera
– 2MP 1/2.8″ CMOS image sensor, low luminance, and high definition image.
– Outputs max. 2MP (1920 × 1080)@25/30 fps.
– H.265 codec, high compression rate, ultra-low bit rate.
– Built-in IR LED, and the max. illumination distance is 50 m.
– ROI, SMART H.264+/H.265+, AI H.264/H.265, flexible coding, applicable to various bandwidth and storage environments.
– Rotation mode, WDR, 3D NR, HLC, BLC, digital watermarking, applicable to various monitoring scenes.
– Intelligent detection: Intrusion, tripwire (support the classification and accurate detection of vehicle and human).
– Abnormality detection: Motion detection, privacy masking, no SD card, SD card full, SD card error, network disconnection, IP conflict, and illegal access
– Support low power push alarm function; support the intergration of solar energy.
– Support the camera to get the power information through 485 link, and OSD overlay display.
– Alarm: 2 in,2 out; audio: 1 in, 1 out; 1 RS-485; supports max. 256 G Micro SD card.
– 12 VDC power supply.
– IP67 protection.
– SMD 3.0.